To avoid criticism say nothing, do nothing, and be nothing.
Elbert Hubbart*
I am really sorry but you will be criticized in your life. If you're planning to do something different there will be people mocking, criticizing and hating you. This is the way of the world.
Some people will never be satisfied. No matter what you do it will be either too much or too little.
This guy's a big phony. He hangs his clothes out to dry. Big fucking deal.

— David Gibson (@DavidGi90745159) May 29, 2017
Learning from criticism
When I lived in Russia I heard these a lot, "Don't stand out. Be like everyone!" or "You have nothing to do or what?"
As soon as you start doing something different with your life, as soon as you start spreading the word, you will be attacked by critics. You're a lucky person if the only critics you receive is the constructive one from your family and friends. At least these people have your best interest at heart. But even this can be painful and overwhelming too.

We are all different, and for some weird reasons I can easily deal with criticism coming from my friends and family. Maybe it is a sign of maturity.
You will be criticized and hated by people you have never heard about. Sometimes, even your friends and family get in on the action.
It's easier, at least for me, to deal with those who have your best interest at heart. And I didn't say it's easy. I said it's easier.
Haters gonna hate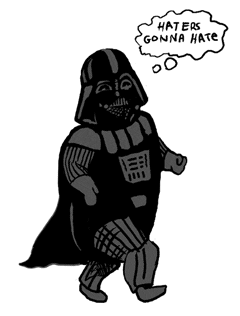 One day, if you work hard enough, you receive your first message full of hate. It will be from someone you've never heard of before. It will be from a person with a strange name – Anonymous (maybe he's from Greece, I dunno).
When you get this message you have only two options:
First option is easy. You can reply back and try to explain your point of view. Or you can reply back and explain why this "Greek guy" is wrong. Totally waste of time.
Or, you can turn on "back biting" mode on and go BANANAS on the insulter. This one is the easiest way. People have natural gift of abusing and humiliating others. Especially when someone goes crazy on us.
There is a problem. These methods will bring you nothing but sadness and self-destruction.
It's not easy, and remember, there will always be people disappointed by you. By you not doing good enough. Or by you doing too much.
The moon does not heed the barking of dogs.
I like cartoons. I think each cartoon can teach you something good. There is one cartoon that taught me how to deal with haters. More precise, it's of the scene from "Madagascar".
Every time when I have to deal with non-constructive and hateful comments or situations my first, natural reaction, is to turn "Full Russian" mode on and go BANANAS on that person(s).
But after counting to ten I put my "Penguin" mask on and just SMILE AND WAVE.
Try it, it works really great. Of course, it's not easy to learn how to do it, but when you learn… Man, it's priceless, I can tell you that.
Just smile and wave, boys. JUST SMILE AND WAVE.
* People often misattribute this quote to Aristotle, but is actually by writer Elbert Hubbard, from his book "John North Willys" : "Do nothing, say nothing, and be nothing, and you'll never be criticized."